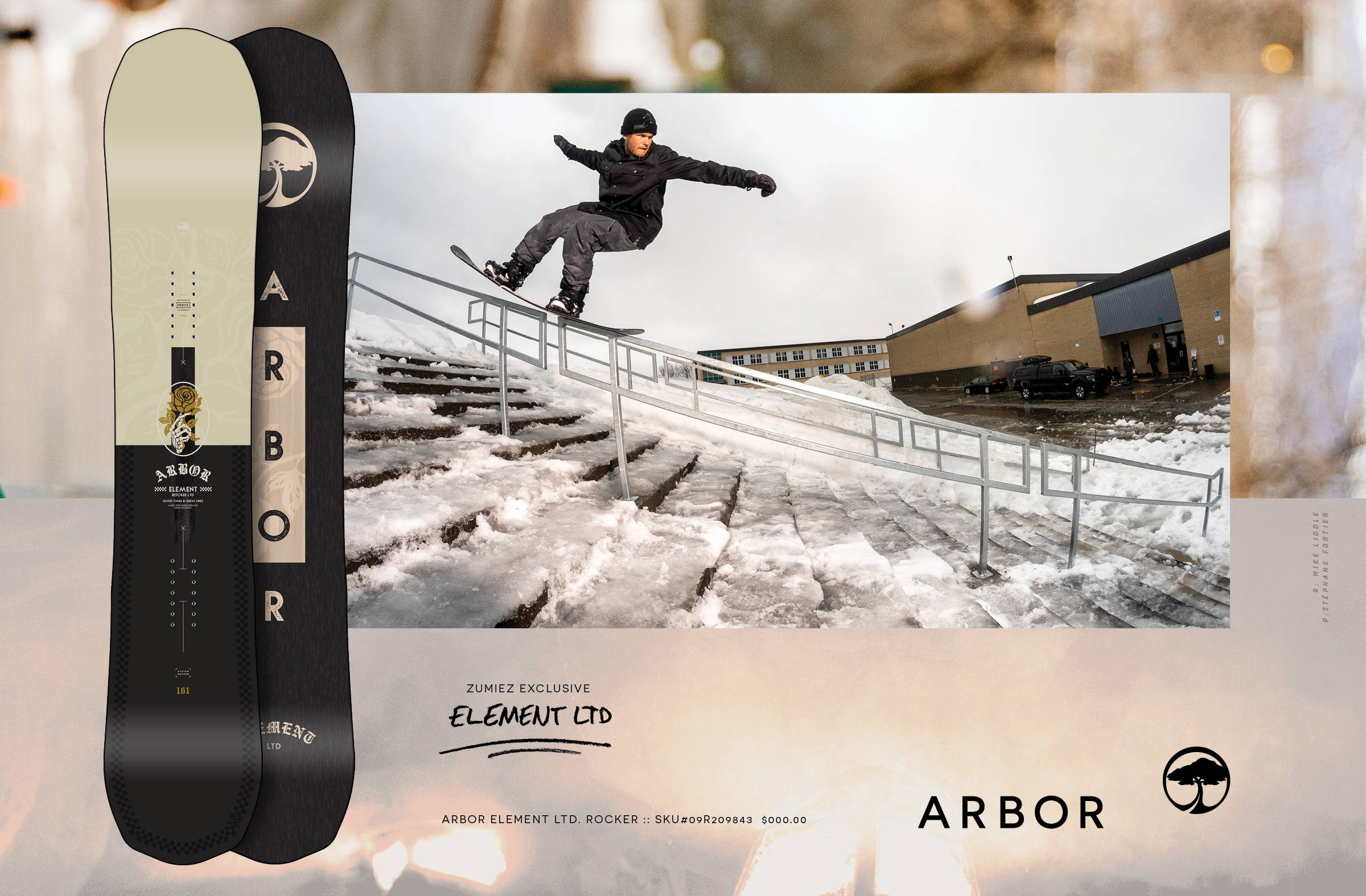 We had the pleasure of colliding creative forces with our long time partners in purveying boarding, culture, and fun - Zumiez ... Maybe you have heard of them? They take their jobs very seriously (LOL), have stores in most states, and are responsible for introducing, fostering, and inspiring many through a life tied closely to culture and snowboarding.
When they hit us up to work on snowboard together, it was a no-brainer. We had the perfect board! The Element helped launch Arbor Snowboards and inspired our brand to go out, in pursuit of good times and great lines, do more, and see more, while keeping the planet in mind as we chased innovation, integrating unique and sustainable manufacturing, and included artists and athletes that support this mindful approach.
It feels right going into our 25th year, building a limited edition snowboard with a partner that has always believed in our mission.

ARBOR X ZUMIEZ ELEMENT LTD GIVEAWAY
Like what you see? Here's how to WIN:
Add a post to your Instagram story showing your best/worst shred moments of the year (or last year) and TAG @ArborSnowboards & @Zumiez with #ZLTDelement . We will review daily, and repost the day's winner that evening by 9PM PST.
Daily winners will be chosen on an overall impression basis. That means funny bail, cool trick, good riding style, awesome progression, amazing scenery (just a few of the criteria). The #1 Post of the week will be added to the story on Monday March 16th story with the winner's Instagram tagged in the post. The #1 winner will receive a Zumiez X Arbor Element LTD and Zumiez Gift Card.
CONTEST STARTS MONDAY MARCH 9TH - GOOD LUCK!

Arbor's Element snowboard has evolved over the years to become a cornerstone in their line. The Element LTD rocker snowboard for the 2020 winter season is here to take your all-mountain shred skill to an all-new level. With the perfect all-terrain design, the Element LTD features the Rocker System, offering a poppy and crisp ride that will take you from hardpack to pow with ease. Quality craftsmanship and eco-friendly materials make up this do-it-all shred stick, making it a staple in the Arbor line and in your quiver for many winters to come.
BUY IT HERE